The tourism and leisure industry is in a constant state of transformation. International trade fairs and exhibitions 2023 will serve as invaluable platforms for industry professionals to stay informed about the latest trends, discover new destinations, products and technologies from around the globe, and connect with fellow experts and leaders.
There are a variety of reasons to participate in travel trade fairs. Firstly, these events attract many attendees, presenting opportunities to expand your customer base and build new connections and partnerships. Additionally, attending trade fairs offers useful insights into the industry and the latest trends, enabling you to effectively grow your business.
Finally, these gatherings provide a unique platform to showcase your tours, attractions, or activities in a more interactive and immersive manner, allowing you to break free from virtual meetings and engage with potential clients face-to-face.
In this article, we'll dive into key international trade fairs and exhibitions in 2023 for an overview of the exciting opportunities that lie ahead.
Top 6 UPCOMING International Trade Fairs And Exhibitions 2023
1. Adventure Travel World Summit (ATWS)
Date: 11 – 14 September 2023
Location: Hokkaido, Japan
A highlight in international trade fairs and exhibitions 2023, the ATWS is a highly anticipated annual event organised by the Adventure Travel Trade Association (ATTA), attracting industry professionals from across the globe.
Over several days, attendees engage in enriching educational sessions, explore a vibrant marketplace, listen to inspiring keynote speakers, and have ample networking opportunities, including dedicated sessions with attending media.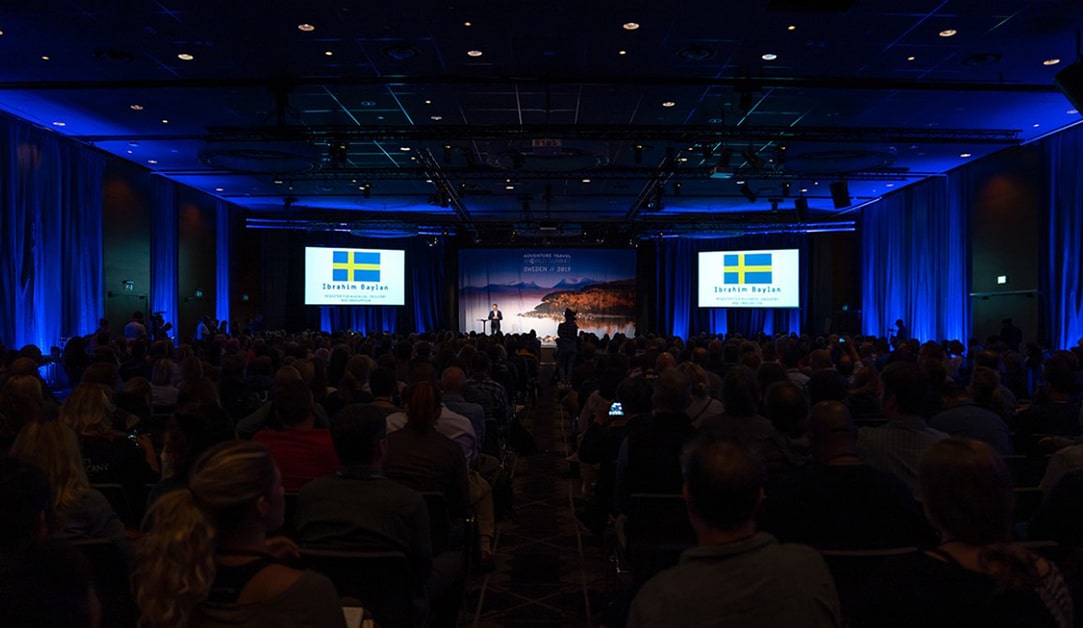 The event also provides a chance to discover the host destination and its unique offerings. Notably, ATWS will mark the first time the event is held on the Asian continent, highlighting Japan's significance as a major player in adventure tourism and showcasing the expanding global opportunities in the realm of adventure travel.
2. Digital Travel Summit US 2023
Date: 12 – 13 September 2023
Location: Hilton Head Island, South Carolina
If you're seeking to revolutionise the travel customer journey, look no further than the Digital Travel Summit. This premier event brings together travel executives from hotels, online travel agencies (OTA), airlines, and transportation companies to exchange valuable insights on elevating personalisation and optimising online strategies.
Esteemed speakers from renowned organisations like American Airlines, Expedia Group, Virgin Voyages, Universal Parks & Resorts, Legoland, and IHG Hotels & Resorts have graced the stage, delivering their expertise.
Don't miss out on this exceptional learning opportunity on Hilton Head Island for an unmatched experience.
3. TTG Travel Experience
Date: 11 – 13 October 2023
Location: Remini, Italy
Held alongside the SIA Hospitality Design and SUN Beach & Outdoor Style expos, TTG Travel Experience 2023 offers a diverse range of destinations and travel services tailored to specific niches. The trade fair brings together exhibitors from Italy and around the world, facilitating fruitful business connections and collaborations between international sellers and the Italian distribution network. Not to be missed if you're particularly into international exhibitions in Europe 2023.
The event also dedicates special attention to foreign promotion organisers, co-organisers, and international exhibitors at the WORLD show floor area.
For visitors aiming to meet the needs of their discerning clientele, TTG Travel Experience 2023 provides a platform to explore solutions, products, and services crafted for exclusive and personalised offerings.
4. ITB Asia
Date: 25 – 27 October 2023
Location: Singapore
ITB Asia, the premier B2B trade show and convention for the travel industry in Asia, is a highly anticipated annual event. Serving as the key gathering for the Asia Pacific travel industry, it mirrors its renowned parent event, ITB Berlin. Celebrating its 15th year, ITB Asia will take place at Marina Bay Sands, Singapore, in 2023.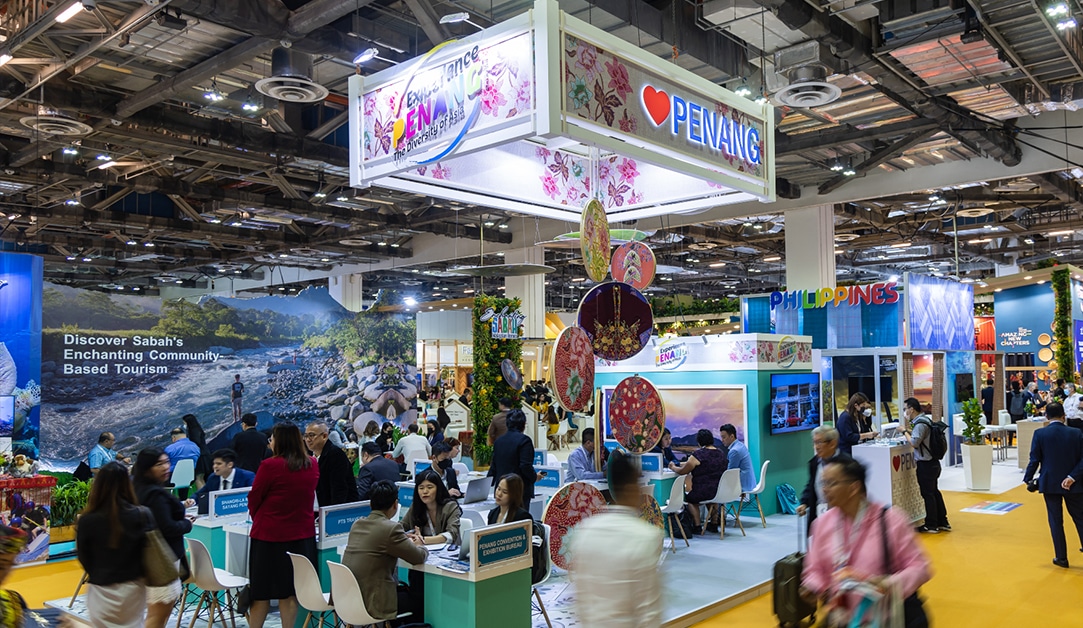 The event showcases a vast array of exhibitors representing companies from the Asia Pacific region, Europe, the Americas, Africa, and the Middle East.
Exhibitors from all sectors of the industry, including destinations, airlines, airports, hotels, resorts, theme parks, attractions, tour operators, cruise lines, spas, venues, meeting facilities, and travel technology companies, come together to participate in this remarkable event.
5. JATA Tourism Expo Japan
Date: 26 – 29 October 2023
Location: Osaka, Japan
JATA Tourism Expo Japan brings together key players from the travel and tourism industry, as well as related businesses, creating a comprehensive trade event.
This dynamic expo offers a diverse range of opportunities, including business meetings, knowledge sharing, discussions, media coverage, and direct promotion of tour products, facilities, and destinations catering to both domestic and international markets.
Organised jointly by the Japan Travel and Tourism Association (JTTA), Japan Tourism of Travel Agents (JATA), and National Tourism Organisation (JNTO), JATA Tourism Expo Japan lets you discover valuable resources and gain insights into the rich history, delectable culinary experiences, and dynamic sights that offer cultural exchanges.
6. World Travel Market London
Date: 6 – 8 November 2023
Location: London, United Kingdom
The World Travel Market London serves as a comprehensive destination for everything related to tourism, hospitality, and travel. Set in its iconic venue, ExCel London, WTM 2023 will bring together esteemed professionals from the global tourism industry.
This trade show presents an ideal platform for tourism businesses and travel providers to showcase a wide array of tourism attractions, cutting-edge technology, and top-tier airlines. It provides unparalleled exposure and abundant market growth opportunities for suppliers and buyers across the entire tourism value chain.
WTM London also takes a deep dive into the future of travel technology, uncovering the most captivating trends that will redefine the trajectory of the industry.
For a comprehensive list of all travel and tourism events worldwide, click here.
Reach out to our travel experts
At Holiday Tours, we're firmly in tune with the global tourism industry. Being one of Malaysia's leading travel agencies, it is essential for us to stay abreast of global trends—all the better for us to bring you personalised travel experiences, for the best in extraordinary holidays and successful business trips.
have a key partner in the travel industry.
GET IN TOUCH WITH US AT +603 2303 9100 OR

[email protected]
You may also be interested in: