Three years ago, nobody could have predicted the state of the travel industry. Flights were grounded, holidays and business trips were postponed, and many businesses adopted remote work. This gave the industry time to diversify and reconsider what the travel experience should entail, how it should operate, and how it needed to change to meet customer demand. Today, all signs point toward a future of personalisation in travel industry offerings.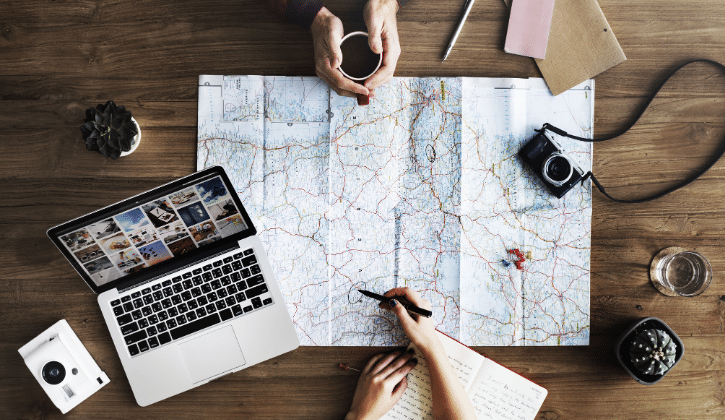 Our travels are steered by our passion. We seek out personalised travel experiences meticulously crafted to match our preferences, drawing insights from input and accounts of a diverse and ever more interconnected community. We do so both upon our return and while still on the journey, leveraging smartphones and social media channels like Instagram.
Personalised Travel Experiences: The Future of Travel
Exploring the impact of personalisation in travel industry practices, let's take a look at some recent data:
According to 57% of visitors, brands should tailor their purchasing experiences to their unique tastes, inclinations, and past decisions. (Source: Think with Google)

Sabre, a global B2B travel marketplace found that 83% of clients anticipate receiving pertinent information and recommendation based on their personal preferences.

A significant 36% of customers display a higher likelihood of paying a premium for personalised travel experiences that align with their behaviour profiles. (Source: Think with Google)

Impressively, a staggering 96% of marketers in the industry believe that customisation enhances customer relationships. Furthermore, 88% of marketers have observed considerable enhancements in their companies' performance due to customer-centric initiatives. (Source: Evergage)

However, only a mere 31% of marketers believe that personalisation trends in the travel industry have been effectively implemented. This reveals ample potential for growth within a dynamic and thriving sector.
Trends shaping consumer behaviour
Listed below are the key consumer trends impacting personalised travel services, as identified by GlobalData.
1. Immersed in tailored experiences
Advancements in traveller maturity and resulting expectations, along with exposure to technological progress beyond the boundaries of the tourism sector, are propelling the desire for increasingly customised services. This spans from personalised itineraries and thoughtfully curated recommendations to precisely tailored accommodation options.

According to GlobalData's most recent Covid-19 consumer survey, a significant 53% of global respondents indicated that the extent to which a product or service is customised to their personality "always" or "often" influences their choices. An additional 26% mentioned being "somewhat" influenced, suggesting room for deeper engagement.
Given their immersion in personalised services in their daily lives, it's unsurprising that individuals anticipate nothing less in their personalised travel experiences. As companies strive for prominence in a fiercely competitive landscape, personalisation in travel industry offerings is likely to emerge as a powerful differentiator in future strategies.
2. Deconstruction of the conventional package vacation
With the new generation of travellers prioritising autonomy throughout the booking process and adopting a self-driven "do it yourself" method via online reservations, the once-standard package holiday has undergone a process of deconstruction.

Presently, online travel agents (OTAs), direct booking providers, and price comparison websites stand as the preferred booking platforms. As travellers embrace greater independence, companies have had to pivot their strategies to remain relevant and attuned to their customer base, thereby boosting revenues and fostering loyalty.
Rather than shaping personalised journeys through in-person interactions, businesses have delved into user generated tailored recommendations. This gradual evolution has contributed to the dismantling of the traditional package holiday, as tourists opt to design their own personalised travel experiences.
3. Rising desire for specialised experiences
Tourism service providers are narrowing their focus to cater more precisely to the desires and requirements of every traveller. This is increasingly apparent within personalisation trends in the travel industry, with providers targeting specific types of travellers. This specialisation encompasses domains like wildlife, adventure, culture, and sustainability experiences, among numerous others.

Prominent online travel agencies (OTAs) like Booking Holdings, Expedia, and Trip.com Group, among others, now offer a diverse array of experiences. However, smaller operators are embracing an even more specialised approach, concentrating on distinct segments of the market.
4. Reducing the burden of information overload
According to GlobalData's Q3 2019 consumer survey, a significant 61% of global respondents indicate they are consistently influenced by products or services that facilitate time and cost savings. An additional 30% express frequent interest in such personalisation in travel industry offerings.

While travellers will always retain the option to conduct their own research when planning trips, the shift is moving away from inundating them with an array of choices. Personalised travel services can instead present information based on the previous visits, transactions, and displayed preferences, potentially streamlining the browsing process and conserving valuable time.
5. Business travellers are becoming the ideal focus 
When plotting their upcoming journeys, business travellers typically seek a combination of value, convenience, and overall ease of access. A study by Sabre unveiled that 79% of business travellers regarded recognition as a favourable aspect when logging into an online platform.

In essence, personalised travel services hold the potential to streamline the experience for corporate professionals. As per a 2018 report by Condor Ferries, millennials (46% of respondents) were found to be most inclined to invest in business flights in contrast to other generations.
This demographic is already influenced by tailored suggestions and services. Consequently, personalisation trends in the travel industry are poised to be a pivotal element in engaging this market segment.
6. Embracing solo adventures
The year 2019 witnessed an impressive 251 million tourists embarking on solo journeys. Trends like backpacking, transformational travel, and gap year tourism have propelled the surge in solo travellers, particularly among the younger generation seeking self-discovery before entering the workforce or starting families.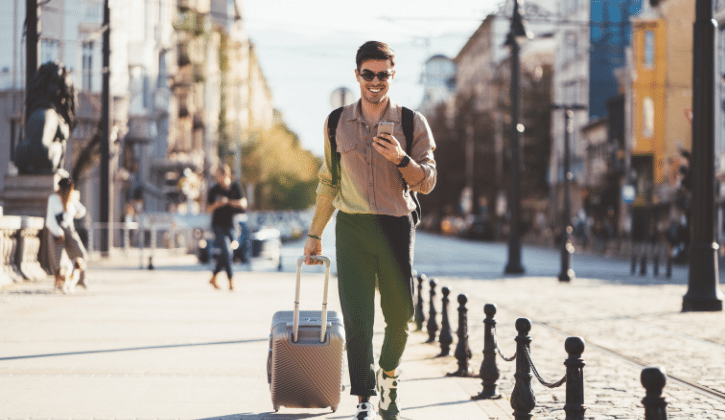 Prior to the Covid-19 years, the count of outbound solo trips had demonstrated robust growth, expanding at a strong Compound Annual Growth Rate (CAGR) of 4.7% from 219 million in 2016.
In alignment with the escalating demand for personalised travel experiences, a growing number of operators are honing in on catering to solo travellers. These travellers are driven by the desire to forge new connections and uncover off-the-beaten path encounters alongside like-minded individuals. Notable examples such as Intrepid Travel and G Adventures stand as prime instances of companies that offer tailor-made experiences for this market segment.
7. Digital usage amidst the Covid-19 pandemic
In an 11-week survey conducted by GlobalData during the Covid-19 pandemic, it was found that a significant number of respondents amplified their duration of engagement with social media, reading online evaluations and blogs related to products and trends, and actively engaged in social media interactions.

This escalated online activity, largely stemming from extended stays at home, is presumed to have contributed to a heightened ease in navigating social media and various online platforms.
As a result, there is a likelihood that individuals are now self-assured in utilising online platforms. This newfound confidence opens up avenues for companies to gather data and establish comprehensive databases on each other.
Examples of personalisation trends in the travel industry
1. Hilton Hotels
The Hilton Hotel group developed the Hilton Honors mobile application with the intention of providing guests with a virtual companion throughout their hotel stays. This app offers suggestions, advice, activity ideas, and assistance with inquiries among other features.

Additionally, the app gives visitors the capability to perform check-ins, manage in-room connected devices, and even use it as a room key. What's more, users of the app can accumulate points that they can either share with friends or exchange for rewards on Amazon.
2. Princess Cruises
Princess Cruises has integrated personalised travel services using wearable technology through its Ocean Medallion initiative—a small, coin-sized device that can be worn as either a wristband or necklace, enabling cruise passengers to engage with the ship's facilities.

This device collaborates with the Ocean Compass, a digital platform for personalised experiences, which holds passengers' details and preferences. It also enables various functionalities such as unlocking cabin doors, efficient navigation around the ship, and real-time tracking of family members' whereabouts.
3. EasyJet
To commemorate its two decades of operation, EasyJet aimed to honour its history by connecting with every passenger who had travelled with the airline. To accomplish this, they utilised the available data for each passenger to craft personalised stories about when they flew with the airline for the first time as well as where they were headed to next.

They sent over 12.4 million emails and achieved an open rate of more than 100% higher than their typical open rate, with 25% more clicks. This action highlights that personalised travel services, using consumer data to create stories that resonate with customers, increases their loyalty to a brand.
Personalisation trends in the travel industry is here to stay
When booking travel, the excitement doesn't stem solely from choosing an aisle seat or finding the right flight time. It comes from face-to-face interactions travel has to offer, the chance to escape endless Zoom calls, foster stronger professional ties, and forge relationships with co-workers.
It's the excitement of stepping off a plane, train, or car, into a fresh environment. The process of searching for travel solutions should be seamless and expedient, and personalisation in travel industry practices achieves just that.
Travel on your own terms with Holiday Tours
Whether you wish to adjust a tour package showcased on our site or desire a completely tailored itinerary, our team of travel experts are right at your service. We provide the option to reserve carefully selected accommodation, transportations, excursions, and additional services.
These personalised travel services provide a tailored experience, ensuring your travel is comfortable and enjoyable from start to finish.
You may also be interested in: